Open House... NEW STUDIO!
2010-10-22

Art-a-facts.com is just about finished with our NEW Art Studio
in Paw Paw, Michigan.
To celebrate we had an "Open House"
Saturday Oct. 30th.
We had treats and an array of refreshments with the theme of
"Día de los Muertos" better known as "Day of the Dead"
We had spooky-fun and a Carmel Apple station!


Here are some pictures from the event...



Tyler and Heather Sherwood of Gobels, Michigan






Other -f-u-n- things...
2008-01-11
I was lucky enough to be chosen for one of my favorite craft shows
DIY's/HGTV's That's Clever (also known as Crafters Coast to Coast.)



Here is the link
It was a lot of FUN!
ALSO was on an episode of CRAFT LAB.
I made the Kaleidoscope I have featured in my Unique Gifts



I have also participated in many art shows in conjunction with
Phoenix's own "1st Fridays".
Besides having a booth or something at one of the local galleries like
Soul Invictus, AND I have had three showings at The Paper Heart.

The 1st show was with my good friends I met through the years
working with Zia Record Exchange.
Zia's was remodling so we took the old desks and turned them into ART.

One of the other shows was with my Phoenix Frida ladies.
We turned the back gallery RED and made a "boudoir" for Frida Kahlao
featuring all of our Frida inspired art.



This is me with my neice Cassie Hale at the Frida Kahlo exhibit
at the Paper Heart in Phoenix, Arizona
July 14th 2006.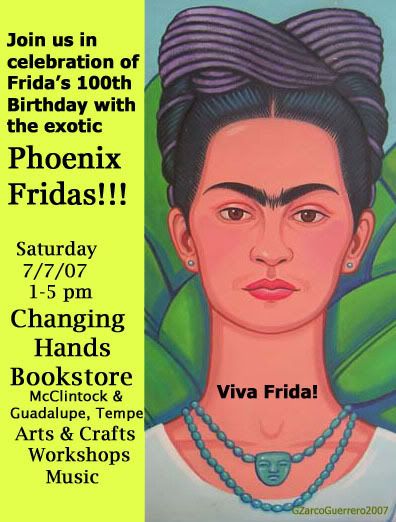 We have also had showings at Bookman's AND
Changing Hands Book Store in Tempe Arizona.

We have also shown at The Burton Barr Central Library
in Phoenix Arizona a few times as well.



Don't forget, I am also Miss Holley King!
2008-01-11
That's right folks I lead a double life!
When I am not soldering up some Stained Glass
or making jewelry...
I am spinning old records over at RADIO FREE PHOENIX.com
AND Deep Oldies.com as
Miss Holley King doing "Rock-a-billy & BEYOND"

After moving to Michigan I had to give-up my 8 year stint
at KBSZ 1250 AM in Wickenburg Arizona.
(I miss it)
BUT I am lucky enough, through the magic of the internet to
keep my slot as a jock.





Tune in for a rockin' good time!



TV and FUN
0000-00-00
We had sooooo much FUN on Uncommon Threads
today making...
the beautiful beaded bracelet (made by Carmen de Novais-Guerrero)
the chunky fabric embellished memory book (Super Santitos Fabric Prayer Book) and...
the "Frida" inspired embroidered pillow Tracy Dove designed
and was embellished by our "Crafty Chica" Kathy Canno Murillo.

If anyone one like to learn more about the projects we did today just go to...
UNCOMMON THREADS Latina Power - Episode DUCT-121


Click here for more info: http://www.myspace.com/phoenixfridas